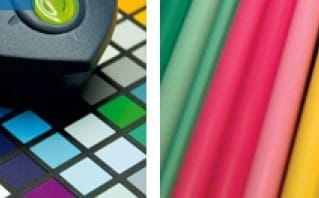 The service includes various spectral measurement and analysis methods.
Details
Location: University of Eastern Finland (UEF), VTT, Espoo, Joensuu, Oulu
Wavelength: UV (150 nm - 400 nm), VIS (400 nm - 700 nm), NIR (900 nm – 1600 nm), SWIR (1.2 µm - 2.5 µm), LWIR (7 µm - 20 µm), FIR (20 - 100 µm)
Info:
We have many decades of experience in spectral color research and measurements and can provide spectral measurements using various techniques over a wide spectral range, including terahertz measurements. We also offer analysis services for quality control of, e.g., paints.
Equipment at UEF
Contact Dmitry Semenov (Joensuu):
Perkin Elmer Lambda 1050 UV/VIS/NIR spectrophotometer with integrating sphere, spectral range 175 – 3300 nm
Perkin Elmer FL-8500 UV/VIS/NIR fluorescence spectrophotometer, spectral range 200 – 900 nm
Konica-Minolta CS-2000 VIS spectroradiometer, spectral range 400 – 700 nm
Konica-Minolta CS-2000A VIS spectroradiometer, spectral range 380 – 780 nm
Hamamatsu PMA-11, fiber UV/VIS/NIR spectrometer, spectral range 200 – 950 nm
Gigahertz Optik 500 mm integrating sphere
Contact Pertti Pääkkönen (Joensuu):
Perkin Elemer Lambda-9 UV/VIS/NIR spectrophotometer, spectral range 195 – 2500 nm
Perkin Elemer Lambda-18 UV/VIS/NIR spectrophotometer with integrating sphere, spectral range 195 – 900 nm
Spectrascan PR-705, spectroradiometer, spectral range 380 – 780 nm
Newton 970 EMCCD camera, 16 µm pixel, <1e readout noise, TE-cooled, combined with Kymera 193i spectrograph, f=193 mm F:3.6, spectral range 200 – 2200 nm
TeTechS SK2109 THz spectrometer, spectral range 0.5 – 7 THz
Contact Sari Suvanto (Joensuu) :
Perkin Elmer Lambda 900 UV/VIS/NIR spectrophotometer, spectral range 200 – 3300 nm
Bruker Vertex 70 FTIR spectrometer, spectral range 650 – 4000 1/cm (2.5 – 15.4 µm)
Equipment at VTT
Contact Jeremias Seppä (Espoo):
Ocean Insight optical spectrum analyser FLAME-T-VIS-NIR-ES, 350-1000 nm
Ando optical spectrum analyzer VIS-SWIR 0.05 nm resolution and accuracy
Contact Hannu Lindström (Oulu):
Agilent Cary Varian 5000, Spectrophotometer, UV, VIS, NIR (175 – 3300 nm), transmission, reflection, absorption measurements, integrating sphere
Contact Eero Hietala (Oulu):
Bruker Matrix-MF portable FT-MIR, ATR probe, spectrometer, fiber-coupled, for real-time monitoring and analysis of chemical and biological reactions
Bruker Matrix-F portable FT-NIR spectrometer, FT-NIR analysis, SMA fiber connection/probes, spectral range 700 – 1200 nm
INVENIO-X FT-IR Spectrometer, VIS, NIR, MIR, FT-IR, transmission, reflection, drift, and ATR measurements
Avantes NIR spectrometer, 2.5-HSC-EVO series feature 256 or 512 pixels InGaAs detectors and are available in multiple configurations, spectral range 1000 – 2500 nm
Contact Tapio Vaarala (Oulu):
Amptek X-ray spectrometer, Amptek X-123 Si (oem), 1-40 keV (31-1240 nm), and X-123 CdTe 5-100 keV (12-248 nm)
Contact Thomas Kraft (Oulu):
Equipment at TAU
Contact Piotr Ryczkowski or Mikko Närhi:
BWTek Sol 1.7  TE Cooled InGaAs Array Spectrometer, fiber input, 1500-1600nm range, 0.35nm resolution
AvaSpec-2048L (Avantes), UV-Vis-NIR Fiber-optic Spectrometer 200-1100 nm range, 1 nm resolution
Send an enquiry
"*" indicates required fields
Select recipient for your enquiry: